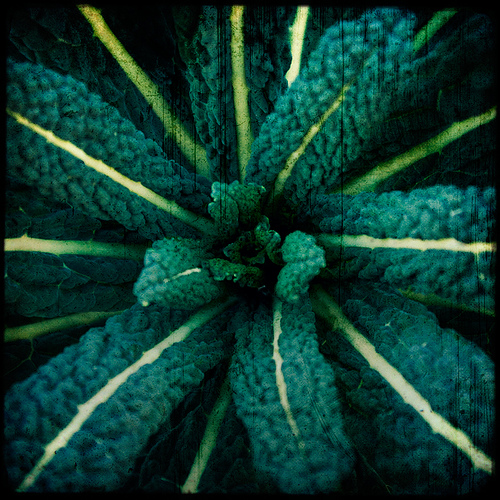 In the states, we know this tough, cold-hardy cabbage cousin as "Dinosaur" kale, its name coming from the rough, leathery texture of its leaves. We use it primarily as an ornamental for the fall and winter garden, combining it with pansies, violas and other cold-hardy winter growers where it provides a textural, architectural accent for its lower growing companions. In Italy, however, Cavolo Nero, or black kale, is a staple of the fall and winter vegetable garden and its greatest claim to fame is the thick, rich tuscan soup called Ribollita.
On our trip to Italy last October, we sampled Ribollita in a variety of restaurants, from small town osterias to the finer establishments of Florence. Each was slightly different in its makeup, but all were a hearty blend of kale, white beans and other vegetables. Some had a touch of tomato, while others leaned most heavily on the Cavolo Nero itself. In every case, the portion set before you was generous--and generously drizzled with the brightest green, fresh pressed olive oil available, some of it even having been pressed that very day. Divine!
I stopped by the garden center on my way home on Friday and picked up some "Dinosaur" kale for my own garden. I have yet to decide whether I'll plant it directly in the ground, where it would certainly attain its greatest size, or whether I'll opt to use it in a few pots up near the garden shed where I can protect them from the harshest winter weather and harvest kale until well after Christmas. Given the current rabbit population, pots seem the most prudent way to go. Either way, I'll be harvesting my own Cavolo Nero in a few weeks and Ribollita will be on the menu on more than one occasion this winter. If you'd like to try some yourself, here is my favorite Ribollita recipe, shared from the most famous of all Italian cookbooks, The Silver Spoon.
Ribollita
Serves 4
1/4 cup very high quality olive oil, plus extra for drizzling
1 carrot, chopped
1 onion, chopped
1 celery stalk, chopped
3 fresh or canned tomatoes, peeled
1 fresh thyme sprig
2 potatoes, coarsely diced
7 1/2 cups Cavolo Nero (black kale), shredded
1 cup fresh white beans, or 1/2 cup dried white beans, soaked in cold water overnight and drained
4 country-style bread slices
salt and pepper, to taste
This is soup is called ribollita (reboiled) because it was originally made using the previous day's leftover vegetable soup heated in an earthenware pot with thinly sliced onion, black pepper and olive oil sprinkled on the surface. It was taken off the heat and served when the onion had turned golden brown. Today, however, it is normally made as follows.
Heat the 1/4 cup olive oil in a heavy pan, add the carrot, onion and celery and cook over low heat, stirring occasionally, for 5 minutes until softened. Add the tomatoes, thyme and potatoes and cook for a few minutes, then add the cavolo nero and beans. Pour in 8 3/4 cups water and season with salt. Bring to a boil, reduce the heat, cover and simmer for about 2 hours. Preheat the oven to 350 F. Place the bread on the base of a large earthenware casserole and ladle in the soup. Bake in the oven for 10-15 minutes. Divide into 4 serving bowls, sprinkle with black pepper and drizzle with olive oil.